faces of service
A PICTORIAL TRIBUTE TO VETERANS
FOREWORD BY PRESIDENT GEORGE H. W. BUSH
ABOUT THE PROJECT
Black and white soul-searching images of dozens of veterans along with their short narratives bound in a 12"x12" hardcover coffee table book, published in May 2017. Together the faces and the stories give insight into a life shaped by war and the military, revealing true facets of the human experience. The mission is to show the real faces of service, and provide them with a voice.
President George H. W. Bush, a WWII veteran himself, wrote the foreword to show his support.
With the purchase of this book, you are supporting CAMP HOPE, an outreach of PTSD Foundation of America.
Signed copies are only available when ordered from this page or purchased at a book signing event. After your purchase is complete, please email agp@annagrovephotography.com within 24 hours of the transaction to indicate that you would like to have your copy sent with inscription.
Books are also available on Amazon however those will not be signed.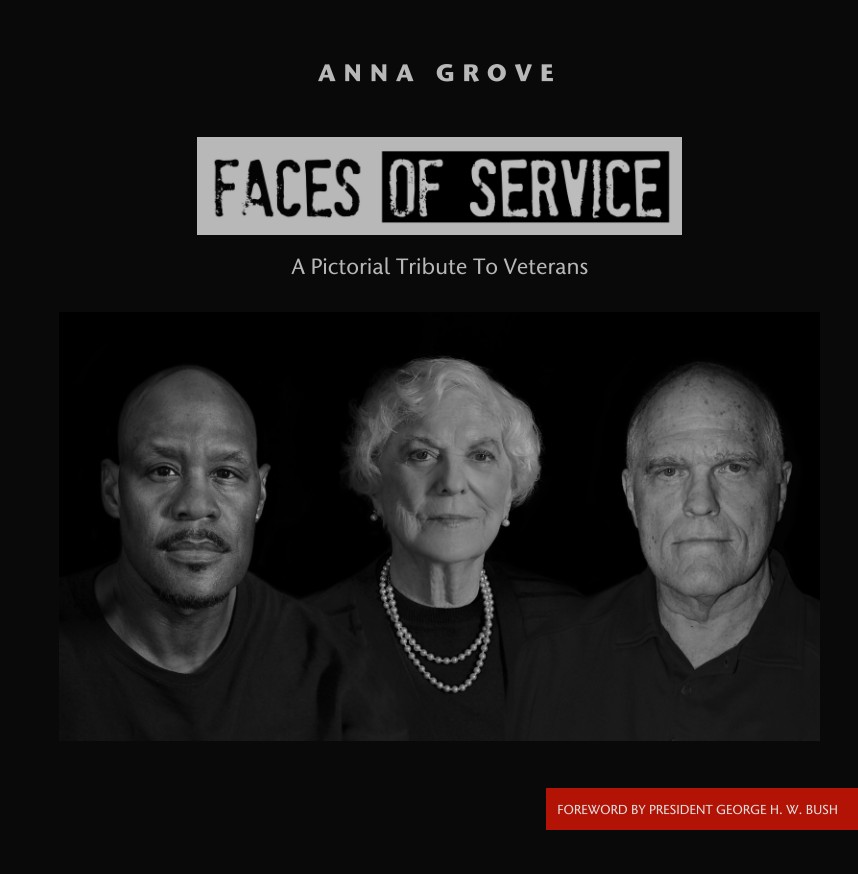 Signed copies are only available when ordered from this page or via in-person pickup!
BOOK SIGNING EVENT/EXHIBIT
May 12th, 2017 between 6-9pm (open to the public, free admission) Facebook event page
Location: m ARCHITECTS | 1206 Nance street | Houston TX 77002
Free parking is available in the lot next to the building.
Exhibit on display: May 12, 2017 - June 23, 2017 at m ARCHITECTS, and can be viewed by appointment M-F (call 713.227.0070 to schedule a time).
Photos from the book signing event
Photos from the book signing event and exhibit
FROM THE BOOK
"During my stay, I learned Japanese and Korean; I wanted to learn the languages since I was in their country. The more troops learn, the friendlier they can be with the people." - Henry Martinez
"Anybody who says he or she is going to die for our country is really lying because we have to live for our country." - Anthony Florez-Di Natale
"It is especially hard on spouses and kids. They have to wing it every day. We are trained to do our jobs." - Robert Grove
"A shell went directly into the bunker..." - Jerry Lowance
"My life was only as hard as I made it, but each day is a new chance to start over." - Matthew Waltz
"In a military base, everyone has a gun, and when someone gets angry, it may not end well." - Ghulam Sakhi
Photos from the fundraiser
At the American Legion Post 560 - November 3, 2017
Anna Grove Photography | studio #224 at The Silos | 1502 Sawyer St., Houston TX 77007
(c) anna grove photography All rights reserved.